Its always great when we have people send us content and ask us to post. Many thanks to Tanya Jackson, for sending us this recipe. We tried it on the weekend and loved it.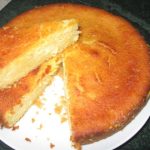 Ingredients
125g butter or margarine

½ cup castor sugar

Grated rind and juice of 1 orange and 1 lemon or lime (1/2 cup)

2 eggs

1 cup self-raising flour, sifted

½ cup ground almonds

¼ cup buttermilk or milk

Syrup

1 cup orange juice

½ cup castor sugar

1 cinnamon stick
Instructions
Cream butter and sugar together until light and fluffy. Beat in rind.
Add eggs one at a time, beating well after each addition. Mix together flour and almonds.
Blend the flour mixture into the creamed mixture alternatively with combined juices and buttermilk.
Pour into a greased and lined 20cm round cake tin. Bake in a moderate oven (180c) for 25 to 30 minutes or until a skewer inserted in the center comes out clean.
To prepare syrup: place juice, sugar, and cinnamon sticks in a small saucepan. Bring to the boil.
Boil for 2 to 3 minutes, without stirring.
Pierce the top of the cake in several places with a skewer.
Pour syrup over the hot cake in a tin. Allow cake to cool in the tin before removing. Serve with cream. Store in an airtight container.