We took the time to give you the ultimate man's guide to the best lingerie for every woman.  Now let's take a look at buying lingerie for your lady friend.
It's obvious most men know nothing about picking out lingerie.  That is understandable because it can be super confusing.
What type of lingerie to buy, what size, what color – just how is a man to know?
Here is a little guide to help you when choosing lingerie for that special someone.
The ultimate guide to buying lingerie for your lady
There are a few things to consider before you go out looking.   What does she like?
Remember that you will not be wearing this – she will and you should go out with the intent of getting something she will like.
If she is not into lacey, tiny, see-through teddies.  Chances are if you buy that, she will not be in much of a mood to wear it.  You may never see it. So keep what she likes in mind.
How to find out what she likes
If you do not know, check out her nightgown/lingerie drawer before you leave.
Check for material type (cotton, silk, etc.), colors, and most importantly, size.
She may be flattered if she wears a large and you get her a small.  If she wears a small and you buy her a large, you may find yourself in trouble.
Avoid anything that says "control" on the label. Those items are used to firm and flatten tummies and rears and she would probably not appreciate receiving them as a gift.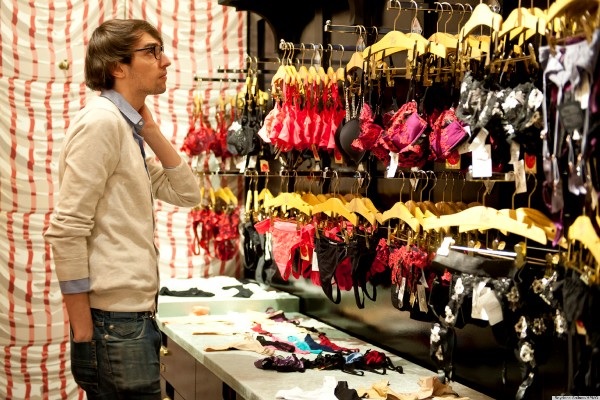 Get your lingerie wrapped
Another thing to remember is if the store offers to wrap the lingerie let them. Dainty lingerie will look better in their wrapping than if you wrap it in the paper left over from your cousin's birthday.
Presentation is part of the package with lingerie. Also, if you are uncomfortable in the store, check out online stores that sell lingerie.
You can always start at Victoria's Secret, but most major department stores like Macy's and Nordstroms also sell lingerie.
Final note – remember to keep your receipt just in case it is the wrong style, size, or color.
What type of lingerie
Now, what type of lingerie is available? Just about anything you can think of! Ask yourself what the occasion is. Is this to let her know you love her?
If so, something crotchless or see-through probably will not send that message.
But, if it is for Valentine's Day or your anniversary, something a little more risqué might be appreciated.
Bras alone have many different styles including push-ups, plunge, gel-filled, padded, underwire, seamless, backless, strapless, open cup, and unpadded.
If you are purchasing a bra and panty set, always check out what she has in her drawer beforehand and definitely make note of the size – of both the bra and panties.
Most places sell at least one pair of panties that match each bra, but some will sell several so you can mix and match.
It will help to know what type of panties she likes to wear too – thongs, briefs, or high cut bikini.
If you are still unsure, read through our guide to the best lingerie.
Sleepwear can be confusing
When it comes to sleepwear, it can be just as confusing.
One type of sleepwear is babydoll pajamas. They usually have very thin straps, and a plunging V-neckline, and are very short with matching panties.
You will find most of these made out of silk or satin, materials that always make a woman feel good about herself.
But, if she feels her breasts are too big or too small, or thinks her stomach is too big, you might want to avoid babydoll pajamas.
There are slips and chemises. Similar to the babydoll pajamas, these are a little longer and a little better at concealing problem areas such as breasts, butt, or stomach.
They too are usually made of silk or satin.
Gowns are full-length versions of the baby doll. Many are see-through or lacey and can help put your woman in the mood. Babydolls, slips, chemises, and gowns may also come with a robe.
A pajama set might not sound too sexy, but if it is silky, and buttons up the front, it can make your woman feel very sexy, especially if she is a plus size (size 18 or larger).
Boxer sets have become very popular lately. The tops are tight, with thin straps and usually a V neckline, although there are boxer sets with normal t-shirt tops.
If you are really looking for lingerie to spice up your love life, take a look at Frederick's of Hollywood (available online).
They have been selling sexy lingerie for over 50 years. They have a wide variety of garter belts, bustiers, corsets, teddies (similar to the babydoll, but one piece), crotchless panties, and fishnet stockings – items that may not be available at many stores that sell lingerie.
Buying lingerie for your lady's style
What type of lingerie you should get your love depends a lot on her self-esteem. Many big women love sexy little teddies, but some will shy away from them, for fear of exposing too much of themselves.
Most stores sell lingerie in plus sizes, which are a little less revealing. If she is really athletic, a boxer set might be something she would like.
Thin women will look good in anything, but especially teddies, corsets, and baby dolls.
When buying lingerie for your lady, try to keep in mind what she likes.
If you purchase something similar to the lingerie she already has and in colors, you know she likes, it will probably make her happy. But, keep the receipt just in case!