Crossfit is a high-intensity exercise program that was first invented to train military forces, policemen, and firemen.  As the benefits of CrossFit strength training became known it exploded in popularity.
It has since been adopted by millions of people over the world, taking the world by storm and becoming a fitness trend.
Crossfit was designed by incorporating diverse forms of exercises in order to help you achieve total body fitness.  Think of functional fitness instead of trying to increase muscle mass.
The exercises are made up of constantly varied high-intensity movements, which aim to target all the muscle groups of your body.  Large and small muscle groups get worked.
How does Crossfit work
Crossfit is not a specialized sport and is not suitable for individuals interested in training a specific part of their body, such as athletes and bodybuilders.
However, Crossfit can be modified to help you achieve your fitness goals.  As it was to initiate things like Crossfit Football and Crossfit Endurance.  As well as the CrossFit games.
So, if you're wondering whether Crossfit can be a good program to follow for strength training, then the answer is, yes it can be once you make a few tweaks.
Crossfit strength training and how it works
The thing to note about Crossfit is that it is made up of exercises from various training programs from strength, endurance, and stamina to help you be the best all-around athlete.
This is why it is possible to modify Crossfit to meet your end goal because all you have to do is focus more on strength-based exercises.
You can put 80% in strength training exercises, and then share the remaining 20% among the other exercises.
Crossfit Strength Training
Listed below are the exercises to follow for a  Crossfit Strength training regimen, each one designed to build strength in a specific area of the body.
I. Glute Hypertrophy
This exercise will target the muscles in your legs and butt. The exercise is known as the Booty program which requires you to lift three times a week.
It's known to provide good results regarding muscle growth in your lower body.  As well as an intense program that lasts 12 weeks and promises to be grueling and effective.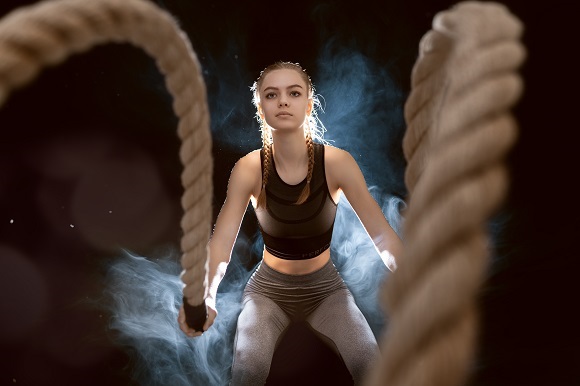 II. Power Challenge Linear Progression
Treat this program as a 10-week cycle.  However, do it for as long as you want it to as long as you're progressing.
It consists of 1RM Back Squat, Bench Press, and Deadlift to total 1000/600. If you can improve gradually and consistently.  It will help you increase your lower back strength.
III. 7/13 Squat Program
This strength program targets your legs and glutes. It is a 10-week squat program to help you improve your front and back squats.
You need to squat three times a week.  Add more of weights to provide more resistance to your muscles.
Each daily workout involves 4 sets with increasing numbers of reps and levels of difficulty. Make sure you take a 24-hour rest between squat days.  There is no point burning your muscles out.
IV. 5×5 Squat Program
It is a squat program, which ultimately helps you improve your back squats and overall strength. This program, requires you to squat twice a week.
The Squat program consists of 5 sets of squats.  With each set composed of 5 reps.  You should be trying to gradually increase weight in each set.
The program lasts for 8 weeks.  Obviously, it got its name from its 5 reps in 5 sets structure.
That is it for CrossFit strength training.  If you are familiar with the style and intensity of Crossfit training then that's great.
However, if you are starting out. go to a Crossfit gym and have an instructor teach you.
It's much safer that way.