In writing and researching this article, and currently in my 40's.  I remember being given my first electric shaver as a birthday gift at about 15. Thinking about it, I might have used it half a dozen times, and thrown it in the draw, Sorry mum.
But as technology changed and developed so did the Electric shaver.  These days there is a wide range of makes and models on the market.  So when comes to choosing an electric shaver it can get a little daunting.
There are a lot of things to consider these days when you choose an electric shaver. We wanted to give you this handy guide so you would know how to choose an electric shaver.
How to Choose an Electric Shaver
Jump online and start searching, or just drop into your local shaver shop. you can spend hours and probably some money trying to find the perfect electric shaver and still get it wrong.
Here's everything we think you need to know about how to choose an electric shaver and get it right every time.
Brand
The brand of electric shaver is a great place to start. And with so many big names in the electric shaving market, not every shave is created equal.
Philips, Braun, Panasonic, and Remington are some of the most well-known electric shaver brands on the market
So start with a well-known brand.  By choosing a trusted and reputable brand you can pretty much guarantee if something goes wrong you will be covered with a warranty, as well the build should be quality every time.
Usually, once you try a few brand-name products, men generally start to favor one  brand over the other and this mainly comes down to the past success we've had with that particular brand
When it comes to choosing an electric shaver, just some market data to consider
Philips is the leader in the rotary shaver market,
Braun rules the market in the foil shavers.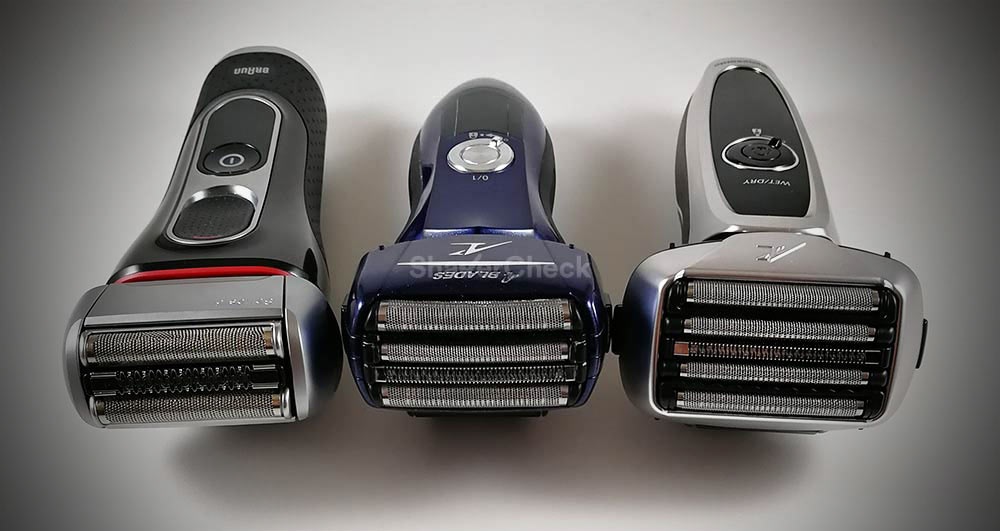 Rotator V's Foil Electric Shavers
There are two categories of electric shaves
Foil
A Foil shave is made of a thin, curved metal foil that covers a cutting blade.  The foil is designed to glide over you the contours of your face, as you move it back and forth.
The stubble is cut as it pokes through the perforated foil.
Foil shavers really suit the guys with a shorter, thinner beard who are looking to want to get a close shave every day.
If you have delicate and sensitive skin or suffer from razor burn, then a foil razor is the one to go for then tends to be less harsh on skin as well.
If you have sensitive skin ( I do), then make sure you are using a quality shave preparation product and your shaving technique is spot on.
Rotary shaver
Has three or four round heads which move easily in a circular motion around your features. Cutters spin below the heads as they move over the face, cutting the hair.
These types of shavers are suited for guys who have longer stubble and don't want to shave every day.
This was the type of razor I had as a gift.  They are best suited to coarse or medium beards and tougher skin.
Charging Electric shavers
There are three main types of powered electric shavers you can choose from, mains powered, battery-operated, or rechargeable.
With battery technology being the way they are these days.  You get some amazing life out of a charge cycle with your shaver.  However, you still need to charge them.
Most of us are constantly on the move.  So anything that can provide flexibility and convenience to shave anywhere is awesome.  This is where rechargeable shavers are ideal.
Keep in mind, that batteries do wear out.  So battery life may become a problem if you need to recharge it frequently.
Yes, there are battery-operated shavers on the market that are specifically designed for travel.
These designs are more for the occasional use and are not as cost-effective for guys who are in a 9 to 5 job and want to regularly shave.
If you need to keep buying batteries, the cost does add up.
Wet Vs Dry
This took a bit to get my head around, but something you need to consider when choosing an electric shaver is wet shaving versus dry shaving.
Dry shaving is exactly that, shaving when dry, is fast, and clean and most men prefer it as it's the pinnacle of easy shaving.
There are a few Electric shavers on the market that can be used dry or wet
Wet shaving, is when you use a shaving gel or foam which gives you the best of both worlds.
Panasonic has a great range of dry and wet technology for electric showers, There are some models that you can take into the shower. But they do not stand up to being submerged.
Tip: Never take anything that has mains power near water.
Check the manufacturer's instructions if you are unsure, you don't want to put a dry shaver into a wet application.  It's a great way to burn your electric shaver out.,
Manual Clean Vs Cleaning and Charging Stations
Just like any tool you use, cleaning is important for caring for your electric shaver.
All brands will have instructions about have to maintain and care for your electric shaver after use.
Men are inherently lazy, but doing it regularly means it is a quick job, and will improve the life of your electric shaver.
A lot of the latest models have built-in cleaning and charging stations so they clean themselves.
All you need to do with this model is place it in the base unit and let it work its magic.
Keep in mind there is an additional cost for cleaning fluids and cleaning cartridges. You also need to remember to change them regularly.  But honestly, it's a hassle-free way to keep your shaver clean and hygienic.
Budget Price
This is where you need to be mindful, Electric shavers vary in price from $50 – $500 AUD.  In that price range, the quality and functions of an electric shaver will vary greatly.
You need to make sure you look after your investment, if you maintain your electric shaver, it's worth spending the extra money.
You only need to look at what a manual blade razor refill costs you per month, to see how long it will take to pay back the Electric shaver investment.
When looking at the budget, keep in mind the cost for things like cleaning fluids, batteries spare parts, and replacement blades,
To keep your electric razor working for years to come.  You need to budget some repairs and maintenance costs as well.
Just remember when you choose your electric shaver that every electric shaver is different but the same fundamental rules always apply.
Always go for quality, there is truth in the saying you get what you pay for.  It takes time for your skin to adjust to an electric shaver so just stick with it.
Some brands will offer a returns policy, so don't do what I did and through it in the draw after a few tries.
So there you go, our guide for how to choose an electric shave, there are plenty of fantastic models out there.
We plan on doing some more specific reviews on actual models as well.
If you are unsure, talk to your mates.  Ask them if they use an electric shaver, and see what their thoughts are.